Cigar Accessories and a Little bit More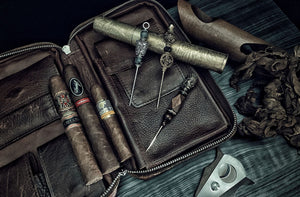 Should you have stumbled across our small corner of the web and are wondering what a Cigar Dagger Nubber actually is then sit back, light up a stogie and read on for a full explanation.
Top Image Features Enigma, King Midas and Apache Ghost.
Cigar Accessories is a bit of an ambiguous term and generally means objects that will enhance your cigar smoking experience and in essence that's what a Cigar Dagger Nubber does. The more apt expression is Cigar nubber or cigar pick. Basically a tool that will allow you to hold your cigar more comfortably when it's down to the nub without burning your fingers, and enjoy your cigar a little longer than you would normally be able to.
Pictured Above from Left to Right: Blue Scepter, The Oracle, Steampunk, Dragon Heart, Lion Heart & The Gentleman.
Our nubbers however do go a little bit further than the typical functionality of cigar accessories. They are handcrafted, artistic creations designed to be as much objets d'art as much as they are a practical tool.
Pictured Above: The Kingpin Collection
Brothers and Sisters of the Leaf are an eclectic community who appreciate the finer things in life with a rare gusto and passion. Cigar brands work extremely hard to create collections that will appeal to the community, not just concentrating on flavors and "smokability" but also on the style and personality of their sticks and this attention to detail sets cigars apart from most other products.
Pictured Above: Moonlight. Engraved Cigar Cutter coming to our store soon!
There is something incredibly pleasing about receiving a box of 20 superior hand-rolled cigars in a gorgeously designed box and donning labels that look like they were painted by Michelangelo. It feels respectful doesn't it? It's like they appreciate you have great taste and understand if you're going to give them your hard-earned cash they better deliver.
Pictured Above: The Last Stogie
These are the very things that have inspired our philosophy. To combine functionality with art and to offer cigar accessories that will not only add to your go-to collection of tools, but will light-up (no pun intended) your cigar smoking experience just a little bit more because it's way more pleasing to hold one in your hand than a toothpick.
Pictured Above: The Time Machine. Photo by our Brother of the Leaf @tabak.co
Just like your choice of cigar is in part influenced by your personality and your tastes so are our Cigar Dagger branded nubbers. Many feature skulls because the symbology is synonymous with the culture but there are many other styles designed to appeal to a wide array and tastes and even interests. As an example Our SOTL Pandora from England loves the Fallen Angel. She has a tattoo of an angel wing so it was the perfect choice for her. Blog post about this very cool and artistic lady coming soon.
Photo Courtesy of: Pandora
We have Cigar Dagger branded nubbers that will appeal to fans of The Sopranos, golf, steampunk, even dragons, and if you're looking for luxury cigar accessories, we've got you covered with the sterling silver Lionheart and Tusk. There are currently over 150 different designs in our store and we are actively working on new ones all the time, so watch this space!
Pictured Above: The Prestigious Tusk
With Christmas just around the corner it's always a challenge to find cigar accessories for the aficionados in your life that are just a little bit different, and because each of our picks are presented in a black velvet pouch inside a cool black gift box, you just have to put it in a gift bag and you're good to go.
Pictured Above: The Red Knight!
There's only one thing we enjoy more than designing and making our cigar accessories, and that's seeing your pictures of them! We have been blessed with the coolest customers who have been posting awesome pics on Instagram so please do keep tagging us @cigardagger and using hashtag #cigardagger. You can also find us on Facebook.
Sign up to our mailing list to be kept informed about our new releases, promotions, offers and discounts.